Top o' the Lot: Top 5 Batman Stories
Hello folks, and welcome to another installment of Top o' the Lot! This is Taylor stepping in this week to bring some much needed celebration of Batman for his 75th anniversary. And what better way to do that than to count down the best adventures to ever feature the Caped Crusader? So here we are with my picks for the Top 5 Batman Stories.
Honorable Mention: Hush

Starting things off at the Honorable Mention slot, we have Hush, the 12 issue collaboration between acclaimed creators Jeph Loeb and Jim Lee. Our story follows the Caped Crusader as he battles a gauntlet of his most fearsome foes organized by the mysterious new mastermind, Hush. Which gives us a great excuse to have a montage of Batman fighting his greatest foes depicted by a premiere talent like Jim Lee.

Now, admittedly, this is very much a popcorn comic, as the main draw here is mostly the spectacle of Jim Lee's art taking us through a series of exciting set pieces. But then, there's nothing wrong with a good popcorn comic every now and then, especially one that delivers a lot of fun, engaging moments, including a memorable bout with the Man of Steel…

And romance with Catwoman.

Sure, there are a few too many red herring plot twists, and Hush's true identity is fairly easy to guess, but that doesn't stop this comic from being a very enjoyable ride.
5) Arkham Asylum: A Serious House on Serious Earth

Kicking off the main list at #5, we have Grant Morrison and Dave McKean's bizarre, twisted vision of Batman and his worst enemies from Arkham Asylum: A Serious House on Serious Earth. The story follows Batman as he is forced by the Joker to enter the Asylum alone to face practically his entire Rogue's Gallery in order to rescue the Joker's hostages. But while this might sound like your typical super villain gauntlet story, Arkham Asylum is anything but, as Batman's (and the reader's) mind is assaulted far more than his body.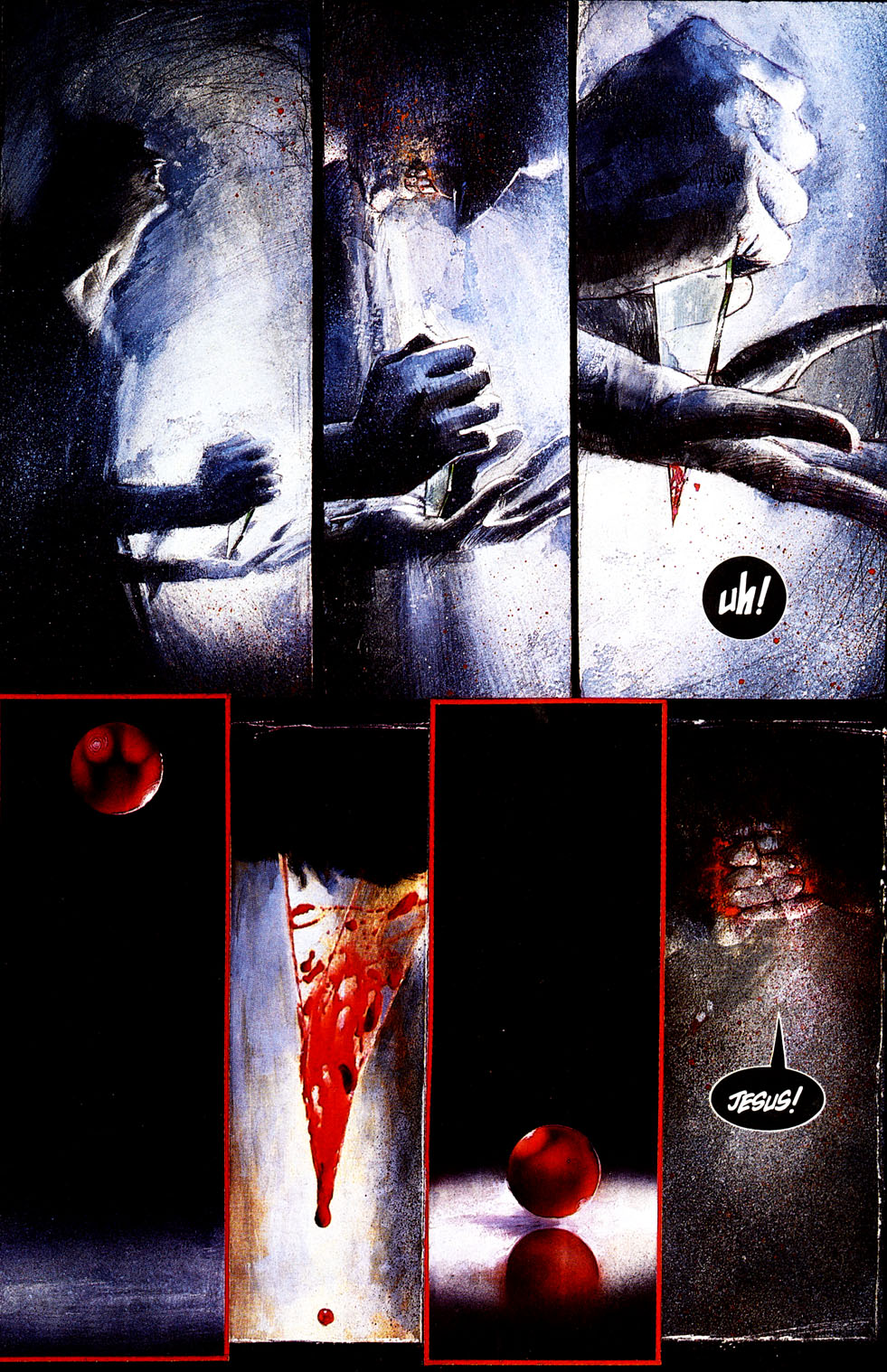 With Dave McKean's dark and twisted art setting the mood perfectly, the story provides us with an evocative journey through the madness of Batman's greatest foes as well as the parallel story of Amadeus Arkham's own decent into insanity.  Throughout the process, Morrison provides us with a wonderfully disturbing take on the Dark Knight's world that's as fascinating as it is horrifying.
Perhaps more than anything else, though, the element that sets this book apart is its atmosphere, one which is just as dark and haunted as the madmen on the pages, and one which is created jointly by the art and scripting. Reading through Arkham Asylum is a very off-putting experience, challenging the reader with bizarre imagery and equally strange dialogue. As is typical of a Grant Morrison book, though, the story coheres more and more tightly as you complete it and rewards your dedication. In the end, the final result is an evocative tale that sticks with you long after you put down the book, one in which Bruce Wayne faces the darkest facets of his own mind and emerges stronger than ever.

4) The Killing Joke

Next up, we have the Alan Moore and Brian Bolland's classic story, The Killing Joke, which is widely considered to be the definitive depiction of Batman's arch-nemesis, the Joker. A distinctive example of the darker edged stories that dominated comics in the 1980s, The Killing Joke provides us with a possible origin story for the Clown Prince of Crime and establishing a method to his madness that has largely defined the character since. More than anything, though, this story is famous for pushing Batman's greatest foe to new extremes of violence,  the most notable example of which being his brutal attack on Barbara Gordon.

Such an act of visceral violence was extremely shocking at the time for a mainstream comic book, and has had a noteworthy impact on both Batman and super hero comics as whole in subsequent decades. Beyond its influence, though, this book makes the list for sheer quality, which should come as little surprise considering the creative team. With Alan Moore providing characteristically strong, poignant writing and Brian Bolland depicting the jarring scenes with brutal realism, this story resonates on quite a few levels.
What sticks out the most to me personally, however, is the way this book distills the relationship between Batman and the Joker, establishing them as opposites even as it highlights how they are, in a way, kindred spirits. This is perhaps best illustrated by the book's finale, which appropriately enough has the Joker summing up their dynamic with a simple joke.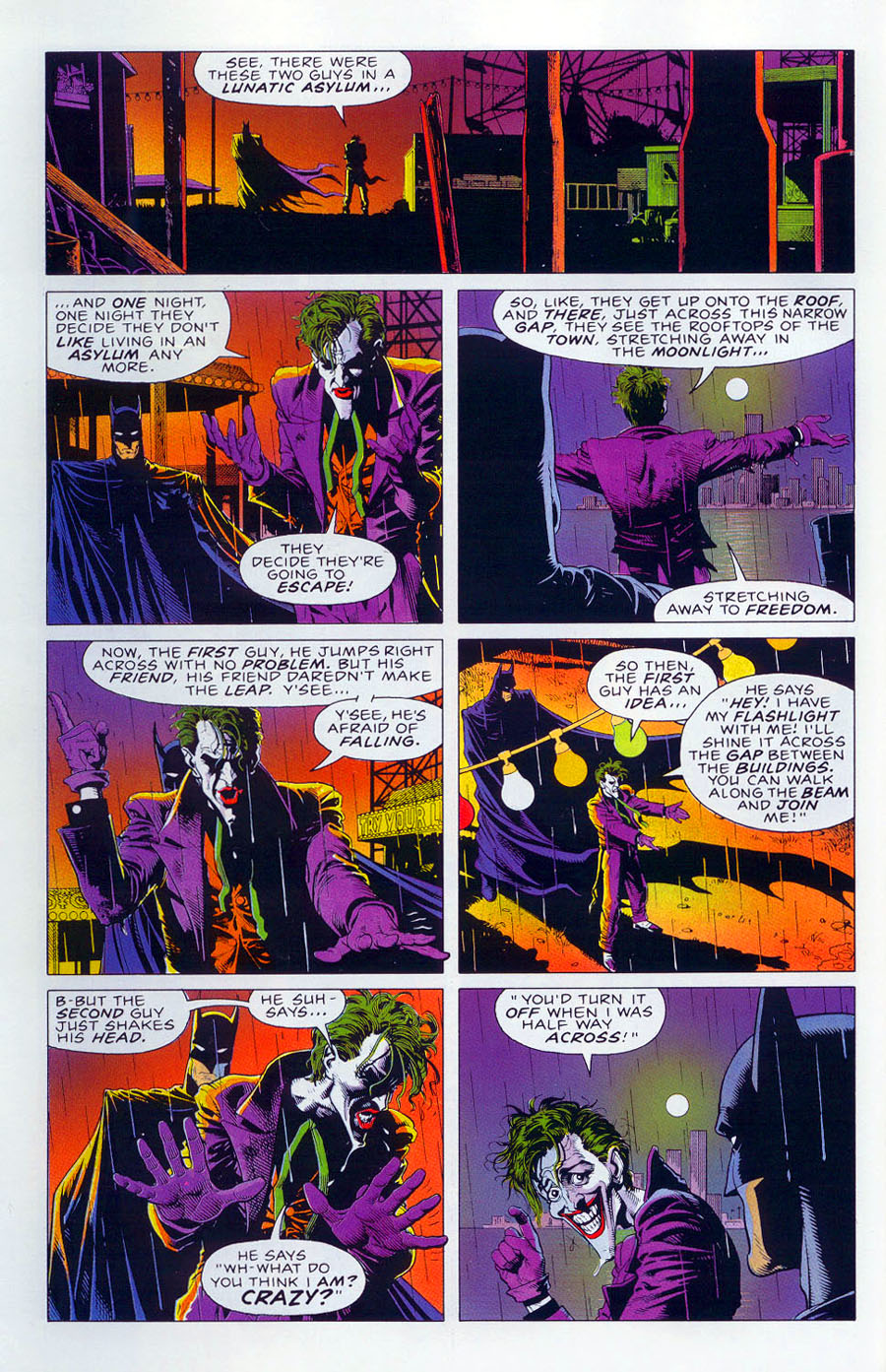 It's a simple but powerful moment when these two bitter foes share a laugh together, with a fleeting but sublime understanding between the two. It's certainly a moment that's stuck with me, and I could never justify leaving it off of this list.
3) The Long Halloween

Coming in at third place, we have the ambitious crime epic from Jeph Loeb and Tim Sale, The Long Halloween. The story takes place over the course of one year during Batman's early career and follows his dealings with Gotham's old guard of mobsters, the new crop of super villains, and an enigmatic serial killer who strikes every month on a major holiday. In addition to this, the book also features what is widely considered one of the best depictions of Rogues Gallery mainstay Two-Face's origin story.
This story comes in so high on our list for a number of reasons. Firstly, this book is filled with stellar artwork from the brilliant Tim Sale, who thrives drawing Gotham's denizens with his stylized anatomy and line work. And because the book features virtually all of Batman's greatest foes, Sale gets ample opportunity to stretch his artistic legs.

All of which works well with the books gritty story, one that would fit in with the pulp stories of yesteryear. I would argue, in fact, that this is best long-form crime story that the Dark Knight has ever been a part of, a smartly written noir with compelling drama and well-executed reveals. I normally pride myself on seeing plot twists coming, but I have to confess that the ending here caught me by surprise, in the best of ways.

All told, The Long Halloween features both Loeb and Sale at their best. The characterizations for the gangsters, super villains, heroes and maniacs are all spot on, while Sale collaborates perfectly with his side of the storytelling, using lighting and positioning to strong effect. These elements help to make The Long Halloween a good addition to any library (as would its direct follow-up, Dark Victory).
2) Batman: Year One
So far, our list has had the conspicuous absence of Frank Miller, who has written some of the best additions to the Dark Knight's mythos ever created. Well, that ends now, because claiming the silver metal today, we have Miller's collaboration with David Mazzucchelli, Batman: Year One, the story of Bruce Wayne's first days as the World's Greatest Detective.
If you read comics regularly, you no doubt have noticed a conspicuous number of DC titles that have featured the moniker "Year One" (Green Arrow: Year One,  JLA: Year One, Robin: Year One, and several others). These titles are so named because imitation is the highest form of praise, and Batman: Year One is a book that deserves a great deal of accolades. Picking up at the beginning of Bruce's crusade against crime, Year One has become universally accepted as THE definitive origin story of the Dark Knight, and for very good reason.
In stark contrast to most Batman stories, Year One eschews super villains, mad scientists, and other more outlandish elements, focusing instead on gritty realism as Batman and a younger Jim Gordon face drug dealers, pimps, organized crime, and corrupt officials. To compliment this down to earth type of story, Mazzucchelli provides evocative, realistic artwork, weaving a tapestry of Gotham's shadows and murk to set a perfect mood.

With such strong artwork to back him up, Miller does exemplary character work with both Wayne and Gordon, showing Bruce growing and evolving from an over-anxious rookie into the hyper-competent warrior we know today, while Jim slowly has hope emerge from his shell of cynicism, and even gets to establish some badass credentials of his own.
Year One is an amazing work, changing the way we see Batman and serving as one of the greatest origin stories of any super hero ever. It's little wonder that it has inspired a slew of imitators, and influenced such works as Christopher Nolan's Batman Begins. If it's so good, though, what could possibly have topped it?
What else?
1) The Dark Knight Returns

As I was compiling this list, I was very torn over the placement between #1 and #2, initially unable to decide which was the most deserving. But while Batman's genesis is indeed one of the best comics in circulation, at the end of the day, I just couldn't justify keeping Batman's grand finale out of the top spot.
Taking the crown for the greatest Batman story ever told, we have Frank Miller's epic view of the Caped Crusader's future, The Dark Knight Returns. Set during a possible future timeline, DKR opens with a 55 year-old Bruce Wayne,  having been forced into retirement due to his age. It isn't too long, though, before the crime-riddled streets become too much for Bruce to bear and he retakes his mantle, becoming Batman once again.

From here, Batman sets off to fight old foes, a new generation of sociopaths, and even his old friend Superman, who had since become a government stooge. But even beyond his old age, there was something different about this Batman. This Batman  was sterner, meaner, more vengeful. This Batman took control of his fights and was precise in his execution. This was a Batman who did not play well with others. But more than anything else, this was a Batman who was more of a force of nature than a man, able to fight his way through any obstacle through his wits and sheer force of will.

Taking a bold departure from the swashbuckling adventurer of the Silver Age, Miller infuses Batman with a rough edge that has come to be the character's defining trait. For this reason, The Dark Knight Returns  is widely considered the birth of the modern Batman.
Whenever somebody says they love Batman because of his gritty demeanor, they are talking about this Batman.
Whenever somebody says Batman is the most dangerous superhero because he is always prepared and has a plan for everything, they are talking about this Batman.
Whenever somebody calls Batman the ultimate badass, they are talking about this Batman.
Batman has always been a popular superhero, but this story made him into the BatGod.
With such an overwhelming amount of influence, enduring character work, powerful writing and art, and flatout quality of the story, there really couldn't have been any other choice. The Dark Knight Returns is Batman at his finest, and tops my list of the greatest Batman stories ever told.

So that's my list! With 75 years of great stories, though, there were naturally several deserving contenders I didn't get to cover. What would have made your list? Please let me know in the comments, and thanks for reading!
Stay tuned for next time: Same Bat-Site, same Bat-Fanboys.