Opinion: DC Needs to Be Careful With Superman's New Power
Back when the New 52 first got off the ground, I started picking up a number of the relaunched titles, including the new Action Comics by Grant Morrison and Rags Morales. It was a little drawn out and opaque (as Morrison's books tend to be), but for the most part I thought it was pretty good. As soon as that run was over, though, I moved away from Superman's solo titles for a few years. Recently, however, something changed that lured me back: Gene Luen Yang was announced as the new writer on Superman. Having greatly enjoyed Yang's work on Boxers and Saints, American Born Chinese, and the Avatar comic tie-ins, I was excited to read his work on a character as iconic as Superman, and so I've started picking up the adventures of the Man of Steel for the first time in a while.
We are now a couple of issues into the run, and I'm mostly enjoying it so far, but I'm starting to notice a disturbing trend forming, so I'm going to go ahead and try to say this preemptively: Tone it down with the Super Flare.

For those of you who haven't been looking into comic book news in a while, Geoff Johns and John Romita Jr made some waves earlier this year when they gave the Last Son of Krypton a brand new super power, the Super Flare. Essentially, this power allows Superman to violently release all of the solar energy stored in his body, creating the equivalent of a small nuclear explosion.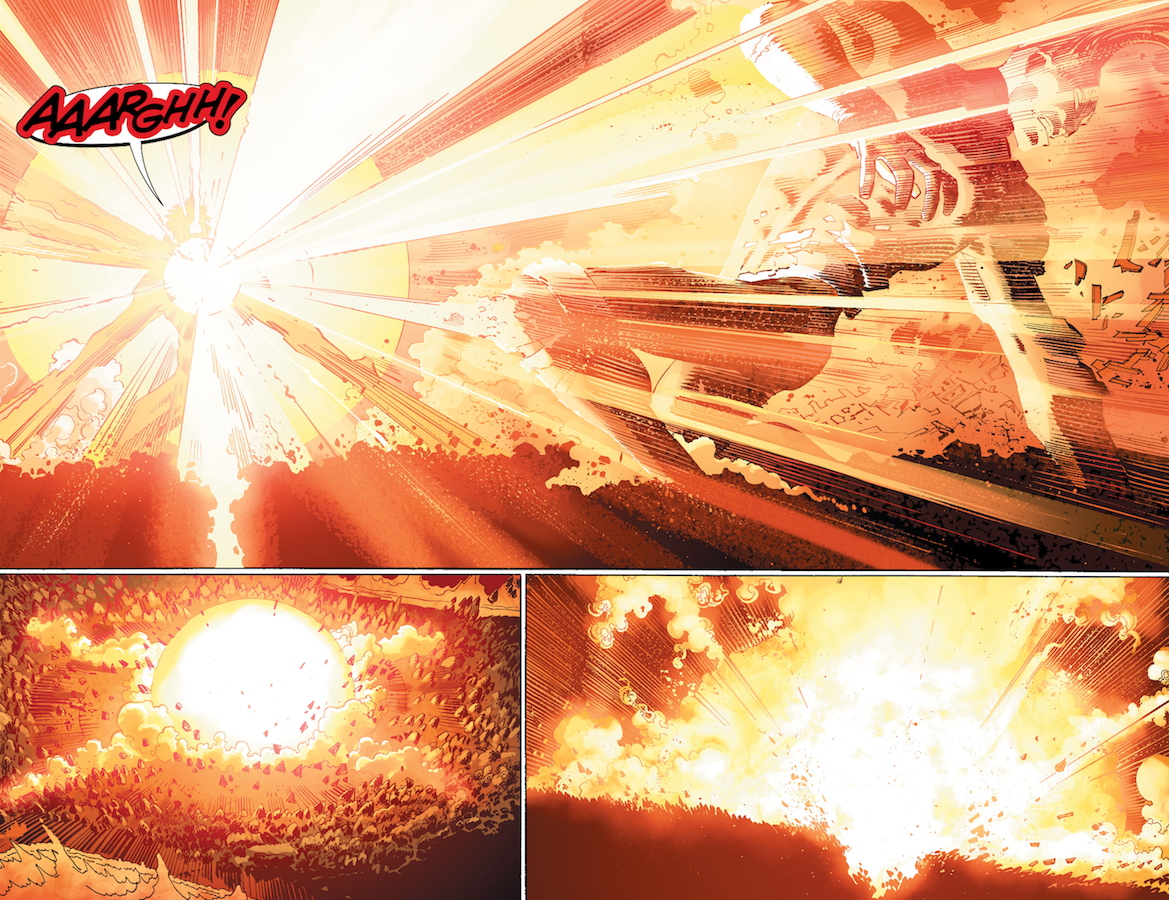 But when they say "all of the solar energy," they do mean ALL of it, meaning that once he pulls it off, he'll be powerless for the next 24 hours while his body recharges.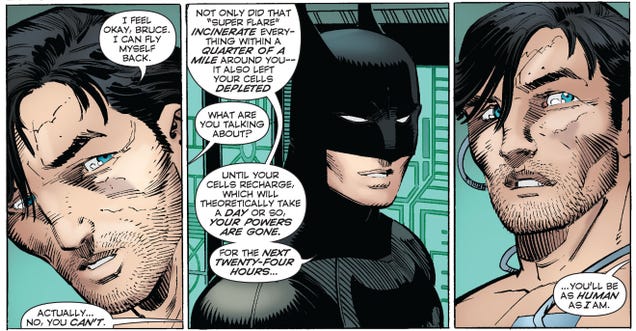 After its introduction in February, a number of writers have been playing around with this new toy, having Superman explore what's its like to be human and vulnerable. Certainly, those can be interesting stories, but I fear that there is a danger here for Superman books going forward: the Super Flare might become the next big cop-out for Superman stories, like Kryptonite before it.
For you see, it's not a well-kept secret that Superman can be a very challenging character to write; as writers kept adding more and more powers for the Big Blue Boyscout while also ratcheting up the ones he already had, Superman became so overwhelmingly powerful that it almost required the writer to have super powers themselves in order to concoct a credible challenge. And so it was that many writers fell back on an old standby: Krptonite. The temptation was obvious and hard to turn down; sure, Superman can fly to the other side of the planet and throw the Taj Mahal to Jupiter before you can blink an eye, but give some random bank robber a Kryptonite-ray and we have some dramatic tension. I certainly understand the need for Superman to have a weakness, and exploiting that weakness is a perfectly legitimate way to keep things interesting, but after a while, the amount of Kryptonite showing up in Superman stories became quite absurd. By the time they were having the Man of Tomorrow square off against a King Kong stand-in that irradiated Kryptonite vision (it happened), I'd like to think we could have all agreed that relying too much on Kryptonite had become stale to the point of being ludicrous.

What does all of this have to do with the new Super Flare power? Well, I fear that there are some early indications that this new power is going to soon replace Kal-El's least favorite green rock as the new cop out of choice for raising the stakes in Superman stories. Now instead of passing out Kryptonite to every mad scientist on the Eastern seaboard, the new temptation might be to keep Superman in a constant depowered state by having him overuse the Super Flare. After all, a Superman completely drained of energy or not far from it is much easier to put into danger than a Superman at his peak. Used sparingly, this new mechanic can be used for some exciting stories with dire stakes, and also give us a chance to see Superman deal with being vulnerable in ways that he usually isn't. In fact, there have already seem to have a number of stories in recent months centered around taking full advantage of being "human" for the first time. But while this is all well and good every now and again, it's going to get old real fast if he's using it constantly, especially if he's resorting to it when it really doesn't seem necessary.
To illustrate what I mean, let's return at last to the current run with Yang and Romita Jr. Two issues into the story, Superman has already had to resort to using the Super Flare twice, once on a giant, militarized 3D printer (for real), and once on an army of robot sentinels. By all rights, this move should be Clark's last resort; besides the in-universe implications of leaving himself so vulnerable, it makes sense from a storytelling perspective to keep it in the pocket for only the most desperate of circumstances to keep it from being cheapened. In spite of this, though, he seems to be firing it up with a perplexing frequency. Granted, the team is using Superman's diminished power to set up a story where his identity is discovered, but it still seems awfully suspicious to me that a guy who can bench press planets at the speed of light has to resort to his ultimate trump card to fend off some robot mooks. If he's having to spam the move over and over again to fend off the faceless drones, I guess the DCU is screwed if Darkseid shows up.
Which brings full circle to my worries about the Super Flare. Yes, it can allow for some good stories. But if they keep using it as liberally as they are at the moment, it takes all the dramatic flare out of the scenes where it's used, detracts from Superman's other abilities (which should be more than adequate for the overwhelming majority of situations), and runs a very real risk of becoming a crutch for lazy writers.
Writing a character like Superman is hard; no one is denying that. But as tempting as it might be, I hope that the talented folks at DC need to be careful not to overuse the Super Flare as a convenient way to curb Superman's powers. Fortunately, we're still in the early days of this new trend, and there's still plenty of time to curb the frequency. I sincerely hope they keep things in a good balance and only resort to his new, fancy earth-scorcher with some appropriate moderation. And I look forward to reading some great Superman stories that I'm sure will come.