Top o' the Lot: Avatar: The Last Airbender Characters
Hello, and welcome to another installment of Top o' the Lot! This is Taylor filling in for this week to bring you something near and dear to my heart and fix a glaring oversight on our part. For you see, there are a lot of us here at Outright Geekery who dearly love the Avatar franchise. I even picked The Last Airbender as the best animated series ever in one of our Geekly Debates. Yet in spite of our love of the series, we don't have that much content about the franchise on our site. This changes now, because today we're going to be counting down all of the best characters from The Last Airbender!
For those who don't know, Avatar: The Last Airbender was a brilliant animated series that ran for three seasons on Nickelodeon starting in 2005. Centered around the eponymous character and his band of friends, the show takes us on a tour of a breathtaking setting filled with an inventive lore. The episodes expertly blend together comedy, action, and heartfelt moments that create one of the most complete experiences ever put on TV. And at the center of all this is a cast of amazing characters that bring a sincerity and often a deceptive complexity to the proceedings. The Last Airbender is full of awesome personalities, and narrowing it down to top 5 is one of the harder things I've had to do for a list like this, but what the heck, let's give it a go.
---
Honorable Mention: Ty Lee
Admittedly, this pick is perhaps the most subjective one on this list. Though she plays an important role at several key moments in the story, Ty Lee is not really a prominent character in the series. And while she has a more complex backstory than you might think at first glance, she is a fairly simple character compared to some of the others in the show. But I decided to put Ty Lee as an honorable mention because I simply love her place in the Avatar world. Avatar is a world populated by people with breathtaking power, people who can mold the earth, guide the flow of air around them, manipulate water, and shoot fire from their fingertips. Ty Lee, on the other hand, is very good at acrobatics. And when she fights these demigods who control the very elements themselves…she kicks the crap out of them.
Ty Lee is a Cirque du Soleil performer who knows kung fu living in a world of super humans, yet she routinely and casually smacks them around. And I love that about her. It also helps that the character is a lot of fun, seeming like the type who might wear a Hello Kitty backpack even as she picks apart a regiment of elite Earth Kingdom soldiers. So while she wasn't around a lot and usually only hit one note, she definitely made the show better when she showed up.
---
Honorable Mention: Iroh
Our second honorable mention goes to everyone's favorite Pai Sho enthusiast, Iroh. Tagging along with his nephew Zuko for most of our story, Iroh takes the role of a wise but affable adviser, slow to anger and quick to laugh. Only a fool would cross him, though, because when he is pushed to act, he reveals himself to be one of the most frighteningly powerful characters on the entire show (Dragon of West, indeed). Iroh is, in many ways, the ultimate mentor figure for the show, serving as father-figure and moral compass for Zuko, a wellspring of wisdom, and a man of immense kindness, providing us with our first look into a different side of the Fire Nation and Firebending, one that wasn't consumed by aggression and rage. Better than any other character on the show, he understood the role that he needed to play, and the importance of balance in the grand scheme of things. Iroh did so well in the show's mentor role, he got to reprise it in spirit form during Legend of Korra. When you achieve the sort of enlightenment that allows you to transcend the shackles of the physical plain, that's definitely worth an honorable mention.
---
5) Aang
Starting off the Top 5, we have the last airbender himself, Aang. In the world of Avatar, Aang is…well, the Avatar, and was thus born with great power but also the dire responsibility of maintaining the world's balance, which serves as the backbone of our story. Aang quickly establishes himself as an extremely likable protagonist, filled to the brim with infectious enthusiasm and a goofball attitude. Yet while at first he may seem like a fairly simple character, he reveals a surprising amount of complexity upon further inspection. While Aang is a naturally kindhearted and fun-loving sort, he's also still just a kid who has an immense burden on his shoulders. At first, he doesn't handle this well, running away from home and from a responsibility he was not ready for. It's no coincidence, after all, that he spends the first part of the series taking trips and trying to have fun, obviously in no rush to complete his training in the bending arts. As the series progresses, though, we get to watch Aang grow up and accept the weight of the task he must take up. Yet even as he does this, he never loses his compassion or his moral center, even as they seem to be a hindrance in his quest to stop the Fire Lord.
This sense of dichotomy, I think, is at the core of what makes Aang a great character. He is the most powerful character on the show, yet still perhaps the most vulnerable. He's the least aggressive, yet one of the most resolute. He's a kid who would really rather just have fun with his friends, but who grows into the role of Avatar. And in spite being pulled in a million different directions by his friends, his enemies, the burden of being the Avatar, and countless other things, he never lets any of this change him from being a good person.
---
4) Toph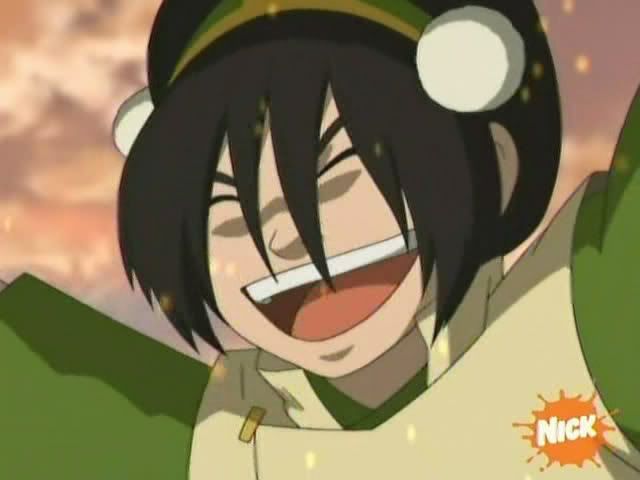 Coming in at the #4 position, we have Toph Beifong, the greatest earthbender in the world (and don't you dunderheads ever forget it!). As Aang's friend, teammate, and earthbending instructor, Toph is an instrumental part of the main story while also serving as a grumpy, more cynical foil to the more upbeat nature of the rest of the main cast. Even beyond the confines of the show, though, Toph is something we don't see enough of in pop culture: a person of disability getting to be a hero. Even though Toph was born blind, she asks for no handicaps because she doesn't need them. She kicks every bit as much ass as anyone else on the show, if not more.
The thing I like best about her, though, is that she is the character who is the most comfortable in her own skin. Though she was born into the role of pampered debutante, she rejects this role and any other box that people try to put her in. She makes no apologies for being who she is, and cares nothing for what you might think of that. And while she isn't exactly affectionate, she'll always go to the wall for those that she cares about.
---
3) Sokka
Up next, we have Sokka, the Meat and Sarcasm Guy. As one of Aang's first friends, Sokka was with us from the first scene of the first episode, and though he was one of the few non-benders in the cast, he proved to be invaluable to the team for his wit and unorthodox planning. He also proved to be invaluable for the audience, since he is hands down the funnest character in the show. This is largely  because Sokka is genuinely hilarious, contributing greatly to show's overall tone. Just think back to how many of the show's best and most memorable moments centered around Sokka; he was the one who gave us Cactus Juice, Foo Foo Cuddlypoops, and Sparky Sparky Boom Man, just to name a few.
Sokka was far more than simple comic relief, though. He was an extremely capable fighter, often decided the path the Gaang would take, and provided his fair share of dramatic moments as well (if you weren't torn up at the end of Book 1, you don't have a soul). In a way, Sokka embodies an important aspect of the show that makes it so great: its ability to hit so many notes at once. Like the show, Sokka is consistently clever, constantly funny, and endlessly endearing, all while being impressive in the action department, yet still able to stir up your emotions when he needed to. Arguably, Sokka did more than any other character to give the show its heart. The Space Sword also helped.
---
2) Zuko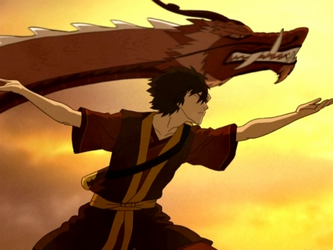 Coming in at the #2 spot, we have Zuko, prince of the Fire Nation. After being banished from his homeland, Zuko wanders the world searching for the only prize that can end his exile: one living Avatar. It is in this way that Zuko is established as our first antagonist, hounding Aang and company at every turn. In a lesser show, that would probably be the end of his characterization. But Avatar is no lesser show, and Zuko is a far more complex character than that. It's pretty hard to unabashedly hate him, for example, when you learn that before he was even exiled, he lived in the shadow of his wunderkind sister and that his father treated him like an unwanted dog. When he was banished, it was for speaking out of turn at a strategy meeting in an attempt to protect the lives of Fire Nation soldiers. We also learn that the scar on his face was inflicted by his own father, and that even THIS was not the cruelest thing that the Fire Lord did to him. For you see, the terms of Zuko's exile are all the more of a gut punch when you realize that "Find the Avatar" was meant to be a snipe hunt; no one had actually seen the Avatar for 100 years when the condition was set, so a search for him was very much intended to be a wild goose chase. And yet, in spite of having half his face burnt off and being sent on a fool's errand, Zuko remains doggedly determined to serve his country and regain his lost honor.
With this is our setup, Avatar accomplishes something that few stories effectively pull off: they make us sympathize with the villain. We can't exactly root for him, knowing that Aang and his friends are clearly in the right, but we can certainly understand why he is driven to do the things he does. Also, it's pretty hard to dislike him when he puts his chase for the Avatar on hold, knowing that he is passing on the one thing that will let him go home, in order to help his uncle. Yet while this is already fairly impressive, it is only the start of the best character arc from the entire show.
Moving through the three seasons, we follow Zuko on his journey from villain, to antihero, and finally to hero. But the journey is not an easy one; he struggles quite a lot along the way. He makes many mistakes on his journey, most pointedly at the end of Book 2. When his sister manipulates him by offering everything he thought he wanted, he is led astray, leading to one of the most emotional scenes in the show. Really, though, his story is better that way. His transformation would have been cheap if he had just flipped a switch and become a good guy. Instead, we get to feel for him when everything turns against him, and we have our hearts broken when he goes down the wrong path. Ultimately, though, this lets us feel so much better when he finds his way again. When he does finally turn to the light side, it feels earned because we see how hard he had to work to get there.
Where Aang had to struggle to remain true to himself while growing into his role as the Avatar, Zuko had the even more arduous task of unlearning everything he had ever been taught in order to become a better person. It may have taken him a while, but Zuko became a better person for all his struggles, and the show was better for it too. The Fire Prince gave The Last Airbender an emotional edge and a level of complexity it wouldn't have had otherwise, so those of us in the fanbase are better off because of Zuko too.
---
1) Azula
Coming in at #1, we have the menace, awesomeness, and all-around badassary  that is Azula. Introduced to us at the very end of Book 1 as the Fire Lord's reponse to Zuko's failure, Azula represented a promise of raised stakes and increased danger in the season to come. And boy did she ever deliver. For while Zuko was certainly a threat, being a talented bender and possessing unflinching determination, his sister was clearly in a league of her own. For you see, Azula is not only the best villain on the show: she is one of the best villains from any story I've ever seen.
This isn't just because she's a prodigious, highly talented firebender, though she certainly is that, at one point fighting off Aang, Katara, Toph, and Zuko…at the same time. No, the thing that truly makes her so dangerous is that most of the time, she doesn't even need to fight you; she'll have you beaten long before it ever comes to that. If she has one trait that's even more dangerous than her firebending, it's her ability to manipulate others. This is on keen display during the Team Avatar's attempted invasion of the Fire Nation during the solar eclipse, when her powers were blocked. Yet even as her enemies stormed her home with Azula unable to make a spark of lightning, there was never any doubt as to who was in control of the situation. She lies with such conviction that even Toph's seismic senses are useless and manipulates her enemies' emotions, making them use time they don't have to pursue her.
This, I think, is at the core of what makes Azula such a frightful antagonist: she is never at a disadvantage. There are no situations she cannot spin in her favor, no buttons she cannot push, no enemy that can intimidate her. And when it finally does come to fighting, she can tear you apart piece by piece.
For my money, there is no better demonstration of Azula's skill and cunning than when she toppled Ba Sing Se from the inside. Culminating at the end of the second season, Azula's plan involved infiltrating the city disguised as a Kyoshi Warrior and manipulating the Dai Li to stage a coup. Throughout the process, she is performing a constant series of cons and manipulations, maneuvering pieces that included the Earth King, Team Avatar, her brother and uncle, and, most crucially, the anticipated betrayal of the head of the Dai Li, Long Feng. This last element comes to its climax in the throne room of the Earth King, where Azula turns the tables on Long Feng, taking control of his agents from him, not with force or even with threats, but by the power of the fear and inspiration she instills in others. It plays out as follows.
(Long Feng enters throne room with several Dai Li agents behind him.)

Long Feng: Now comes the part where I double-cross you. Dai Li, arrest the Fire Nation princess. (the Dai Li do nothing) I said, arrest her! What is wrong with you?!

Azula: It's because they haven't made up their minds. They're waiting to see how this is going to end.

Long Feng: What are you talking about?

Azula: I can see your whole history in your eyes. You were born with nothing, so you've had to struggle, connive, and claw your way to power. But true power, the divine right to rule, is something you're born with. The fact is, they don't know which one of us is going to be sitting on that throne, and which one is going to be bowing down. But I know… …and you know. (takes a seat on the throne) Well?

(Long Feng is stunned by Azula's speech, but eventually relents, and kneels before her.)

Long Feng: You've beaten me at my own game.

Azula: Don't flatter yourself. You were never even a player.

("The Crossroads of Destiny, Book 2: EARTH)
Long Feng never had a chance against Azula. She seized control of Ba Sing Se's elite secret police from him simply by being who she was. And she doesn't even humor him by letting him think he was ever anything more than a tool that she used.
And that is what's so scary about Azula. She has everything so planned out, intimidates those around her so thoroughly, carries herself with such confidence…and she KNOWS she's going to win. Earlier in that same episode, Zuko challengers her to an Agni Ki, and she dismisses it out of hand, not because she was afraid of losing, but because she and Zuko both knew that she would win, and she didn't have to prove it. She does not gloat, and never lets anything get in her way. Even as Aang entered the seemingly invincible Avatar State, she didn't stand around in awe, but simply blasted him with lightning, coming closer than anyone from the Avatar universe has ever been to destroying the Avatar forever.
And they never beat her.
Not at her peak anyway. In the final chapters of the series, Azula is eventually betrayed by her own subordinates, which shakes her to the core, causing her to lose a step and become more vulnerable. Would they have prevailed in the end if she hadn't? It's difficult to say, but I bet Zuko and Katara are glad they didn't have to find out.
In a show filled to the brim with great characters, Azula stands out as a shining example of an antagonist. Deadly in combat, extremely savvy, and frighteningly competent, she's one of the best villains I've ever seen, and the Top o' the Lot for Avatar characters.
So there you have it! With a show as great as The Last Airbender, it was pretty hard to narrow things down as much as I did, and unfortunately a lot of great characters got left out. I felt bad leaving Katara, Appa, and Momo out, but the competition was stiff. Who would you have put on your list? Please let me know in the comments, and thanks for reading!