Top o' the Lot: Top 5 Arch-Nemeses
Hello, everybody, and welcome to another edition of Top o' the Lot! It's time for Halloween again, so what better time could there be to look at all the villains that make our beloved comic books worth reading? But discussing the best villains is something we've done before, so this time, we're looking at a different angle. Today, we're mostly going to be judging the entries on how well they get under the hero's skin. Though many of our entrants today would indeed be mainstays on Best Villains Ever lists, we're focusing on those villains who fill the roll of nemesis, those who stand as the hero's opposite number, their dark reflection, their most vicious tormentor. These are the villains that stand a cut above the rest, and who make the lives of our heroes a living hell.
5) Lex Luthor

Starting things off, we have the brilliant and ruthless arch-nemesis of the Man of Steel, Lex Luthor. If the only thing you knew about this character was that he was Superman's greatest enemy, you would probably assume that the guy was some god-like being with the sort of overwhelming power that would allow him to stand toe-to-toe with the world's most powerful superhero. But Lex Luthor is nothing so trite. In fact, he is quite the opposite: he is merely a mortal man who uses nothing but his cunning mind to compete with the godly Man of Tomorrow. Building himself up from nothing, Luthor is a fitting foe for Superman, representing the pinnacle of human ingenuity (loathsome as he may be) in opposition to strength of Kal-El's alien birthright. Yet while he's certainly made himself quite the credible threat with an assortment of power armors and kryptonite weapons, the thing that makes him Superman's greatest foe is the way he opposes him on a philosophical basis. In Luthor's mind, Superman causes more harm than good to humanity by serving as a crutch, preventing them from carrying their own weight and growing as a species. And while he may be an asshole, Luthor does have a point, and has made Superman question his role in the world on more than one occasion. It takes a lot to hurt a guy like Superman, and not just physically; the character has always had an unshakable moral compass, yet Luthor does better than anyone at making Superman doubt himself. For the ways he hurts Superman physically, mentally, and emotionally, Lex Luthor cements his place in our countdown.
 4) Magneto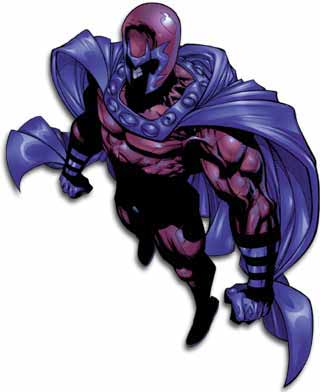 Up next we have the Mutant Master of Magnetism, Magneto. Harnessing the power of one of the fundamental bedrocks of physical reality, Magneto is one of the most powerful living things in all of the Marvel Universe, is more than capable of curb-stomping entire teams of X-Men. But as much as his powers make him a dangerous combatant, he's on this list today because of his ideological struggles with the X-Men, especially their leader, Charles Xavier.
Where Xavier pushes for peaceful coexistence, Magneto champions the mutant cause with much more extreme methods. At times, the things he does are genuinely monstrous, but even at his worst, it's hard not to feel for Magneto. As a Holocaust survivor, he has seen the worst of humanity, so even if we can't condone some of the things he's does, we can still understand why he does them.
Things like this make Magneto perhaps the most sympathetic villain of all time. This is not only the result of his tragic background, though; he also captures our attention by personifying a struggle that many people go through in real life. In that sense, Professor X and Magneto are bigger than just a pair of comic book characters; they serve as analogues to two distinct philosophies for dealing with the same sort of bigotry and hatred we see in the real world. Their rivalry is one that goes beyond comic books, and even beyond our usual conceptions of good and evil, and certainly it gets high marks for our list.
3) Doctor Doom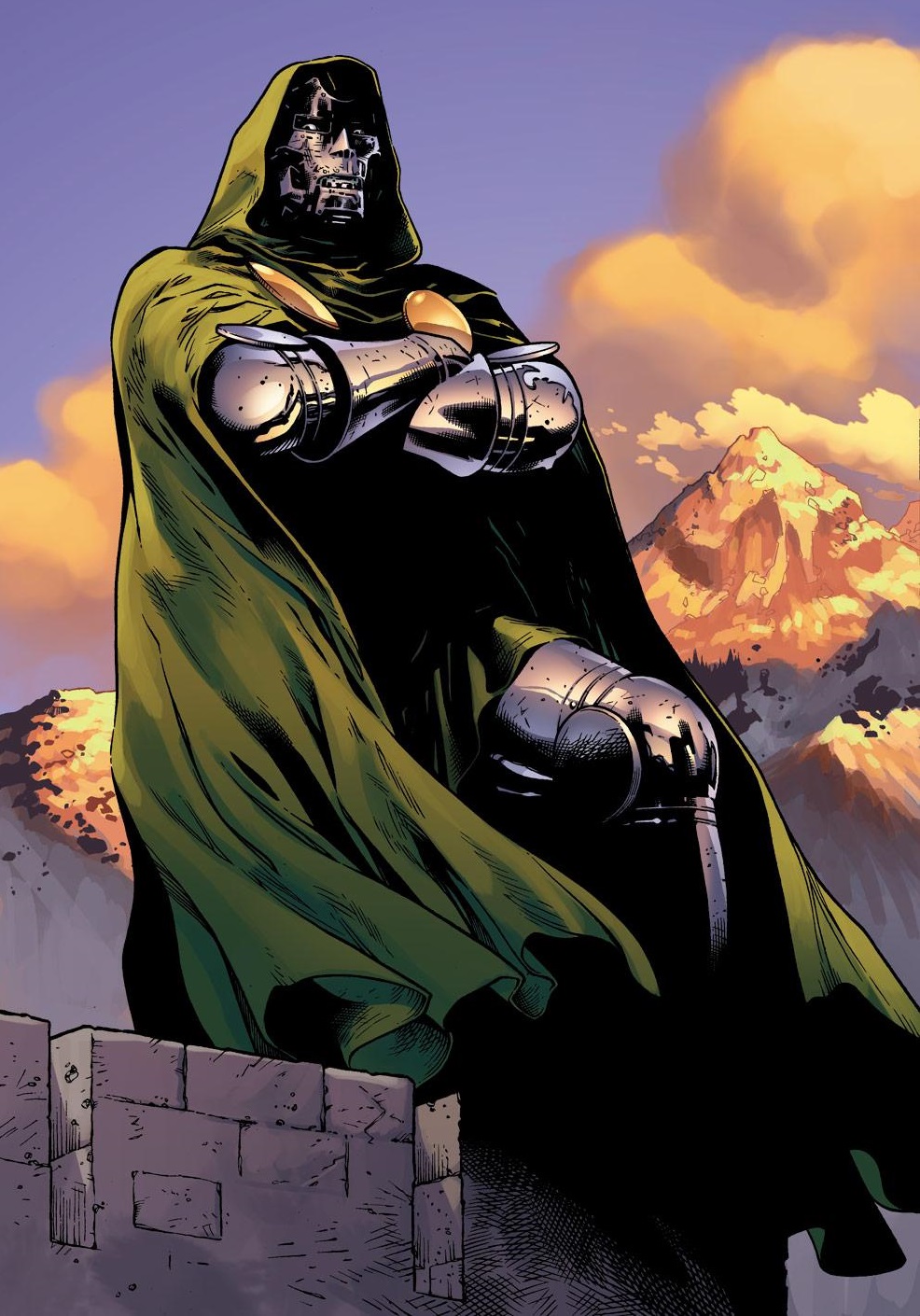 Kneel before Doom, peasants!
Coming in at #3, we have the Lord of Latveria, Victor Von Doom. Describing Doom in a brief blurb is something I have a hard time doing because the character is simply larger than life. He is at once a scientific genius, a master magician, and a sovereign ruler. And the world would be his, if not for the meddlesome fool, Reed Richards!
But while Doom may be Reed's arch-nemesis first and foremost, you could also describe him as the nemesis of the Fantastic Four and perhaps even the entire Marvel Universe. Doom has made himself more dangerous than gods, monsters, and eldritch abominations, starting with nothing and building himself up with indomitable will.
On paper, Doctor Doom should mop the floor with Reed Richards. On a powers front, it's no contest at all between a man who simultaneously wears armor at least on par with Iron Man's while also being a sorcerer a few steps shy of Dr Strange up against a guy who can stretch. Combined with an intellect that is just barely eclipsed by Mr Fantastic's, a margin that is arguably made up for by Doom's ruthlessness, and you have what seems like a total mismatch.
Yet Reed prevails time and time again,because he has some important things that Doom lacks. First, not only is Reed marginally smarter, he also has the ability to put his ego aside. Countless times, Doom's downfall has been the result of his own arrogance. More importantly though, Reed has people around him, while Doom chooses to isolate himself from the rest of mankind. And really, that's the whole point of the Fantastic Four. By coming together as a team and family, the FF become something greater than the sum of their parts and are able to overcome any obstacle, even one as daunting as Doom. Especially one as daunting as Doom, considering that he epitomizes the lone wolf approach. On top of being incredibly badass, Doom manages to reinforce what is perhaps the central message of the Fantastic Four, and isn't that really all you could want from an arch-nemesis.
2) The Green Goblin

At the silver medal position this week, we have Spider-Man's arch-nemeses, the Green Goblin. During the introduction, I stated that one of the major criteria we're looking at is the way a villain gets to the hero. In this regard, Norman Osborn is hard to beat. For he's not only one of Spidey's deadliest opponents, but he is also quite possibly Peter Parker's greatest foe. Unlike the other entrants on this list,the Goblin's role in our hero's life doesn't end when Peter takes off his costume. No, Norman Osborn is inextricably tied in with the Web-Head's civilian identity as well, being the father of Peter's best friend Harry. Furthermore, Norman at one point even knew Peter's secret identity (back before all of Mephisto's voodoo, at least), and used this information to hurt Peter in ways that few villains ever do. For starters, he was the man behind the curtain of the clone saga, during which time he went as far as to induce the miscarriage of Peter and MJ's unborn child. And then of course there is one of the most infamous confrontations of all time, the night the Goblin killed Peter's first love, Gwen Stacy.
When it comes to fighting an arch-nemesis, it's fairly common for the conflict to be personal for the hero. But rarely does it reach this level. The Green Goblin has taken more from Spider-Man than any other villain, and to add insult to injury, Peter has to keep himself in check whenever they encounter each other in their "normal" lives. This pairing has one of the most unique dynamics in all of comics, and their animosity has led to some of the most iconic moments in comic book history. Almost as many as…
1) The Joker

Okay, so this one probably isn't too much of a surprise. But sometimes, a predictable choice is predictable for a reason. And so it is with this week's Top o' the Lot, the Joker, the Clown Prince of Crime himself. After being introduced back in 1940, the Joker has had a long and distinguished career ruining Batman's life. Like the Green Goblin, the Joker is especially good at striking at the hero viciously and on a personal level. Among the many ways he has struck against the Caped Crusader over the years, chief among them would be killing the second Robin, Jason Todd, and crippling Barbara Gordon, both of which occurred in brutal fashion. And this is on top of all the countless, faceless innocents that the Joker has slain over the years.
More so than his chilling track record for mayhem, though, the Joker tops our list for the way he completely embodies being Batman's dark opposite. Where Batman represents order, the Joker is pure chaos. Where Batman fights to save lives, Joker kills on a whim. Batman is force for justice disguised as a dread creature of the night, while the Joker is a cold-blooded murderer dressed in the trappings of joy and whimsy.
And perhaps most impressively of all, Joker has Batman, one of the most competent, resilient heroes in comics, trapped in an eternal stalemate. No matter how many times Batman stops the Joker's plans, he can't stop him for good without crossing an all-important line. In this sense, Batman can't beat the Joker, he can only contain him for a time. I've listed a lot of great arch-enemies on this list today. But the Joker is the only one that actually wins.
So that's my list! Who would you put on yours? I hope you enjoyed reading, and have a happy Halloween!