Review: The Unbeatable Squirrel Girl #1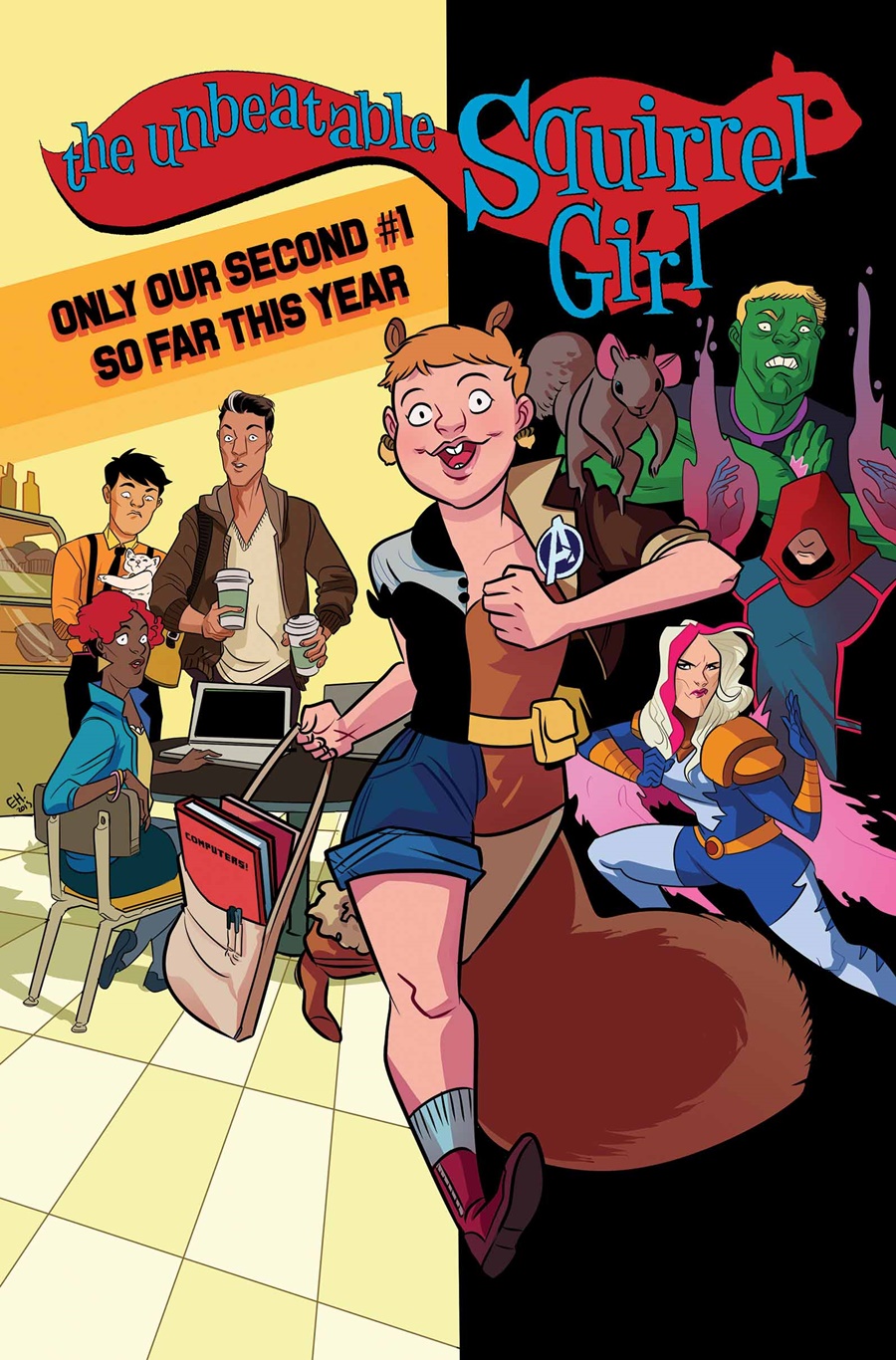 Title: The Unbeatable Squirrel Girl #1
Publisher: Marvel Comics
Writer: Ryan North
Artist: Erica Henderson
Price: $3.99
When I walked into the comic shop this week, I confess that I was expecting a pretty slow week, with there only being a couple of titles I was planning on picking up. But as I stood in front of the New Releases Shelf, I happened to notice a new Number 1 that had slipped under my radar, The Unbeatable Squirrel Girl. Upon seeing this on the shelf, I recalled hearing good things about the recent volume produced by Ryan North and Erica Henderson, and took a closer look. It was at this time that I saw the bold proclamation on the cover, boasting that this was "Only our second #1 so far this year." And you know what? It made me chuckle. Figuring that a book that made me laugh with the cover would almost certainly have some great stuff inside, I gave it a shot. After reading through it, I could not be happier with my decision, because this is definitely one of the funniest and most charming books I've read in a damn long while.
Our story follows the eponymous Squirrel Girl and her quirky crew as they balance their time super-heroing and meeting Doreen's mom for lunch. That might sound like a boring premise, but it fits really well with the tone of the book, and speaks to the story-telling abilities of the creative team that the book still manages to be engaging and fun. Squirrel Girl is an off-beat, tongue-in-cheek sort of character, and this book picks up that vibe and runs with it. All the characters are given great energy and charm which makes Maureen telling embarrassing stories about her daughter just as engaging as the part where they fight a raving robot from the 1940s. This upbeat tempo is conveyed well by both the writing and the artwork; North provides us with plenty of clever, snappy dialogue while Henderson does great work with vibrant facial expressions and panels that convey a lot energy and manic motion.
This all adds to up to comic that's high-spirited, engaging, and just plain fun, and there are so many things that I love about this comic. I love the banter between the characters. I love the captions at the bottom of the page. I love that Squirrel Girl's ringtone is her own themesong. I love the pack of Deadpool's villain cards that Doreen carries with her. I love the names of the stalls in the Avengers' food court. I love how the creative team understands that its a little silly how this is already the second Unbeatable Squirrel Girl #1 to come out this year. But most of all, I love how this book doesn't take itself too seriously and embraces the light-heartedness at the heart of the character.
Honestly, my biggest complaint about the book is that it makes me feel like a fool for having missed out on the previous volume. Rest assured that I will correct that mistake at the first opportunity, and that you should run out and grab this issue as soon as you can.
Verdict: 5 out of 5
Buy it!