Talking Tropes : The Importance of Joker's Multiple Choice Past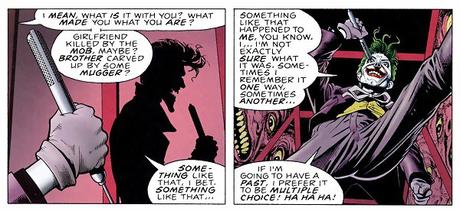 Talking Tropes : The Importance of Joker's Multiple Choice Past
Hello, and welcome to another installment of Talking Tropes, where we take a look at some of the story telling tools used in comics and discuss how they're used and what they're good for. Today's entry is actually pretty rare, but is oddly enough more topical than it usually would be: the unexplained mystery. The element I'm talking about frequently incorporates what TV Tropes calls the Un-Reveal, in which the story scoots right up to the edge of solving a long-standing mystery only to balk at the last moment. What I'm focusing on, though, is the mystery itself, not necessarily the moments where they tease you with an answer. It should be noted that we will be talking about some heavy spoilers from V for Vendetta, which is a great story, so make sure you're square with that going in. That being said, let's get started!
As I said earlier, this trope is fairly uncommon, not only in comics, but in stories in general. After all, most of the time it would pretty unsatisfying for a big, overarching mystery to go without an answer. Imagine, for example, how lame it would have been if we never found out who the Fourth Man was in Planetary. Furthermore, a good reveal can also add a lot to a story's depth and quality; one good illustration of this is the way the dynamic between Green Goblin and Spider-Man changed once we found out that the Goblin was actually the father of Peter's best friend, Harry. Not only was that a pretty effective twist for the moment, but it also gave fodder for stories years down the line. So for the most part, yeah, it's pretty good to give the audience a nice, well-thought-out answer to a long running question. And this is true a lot of the time. Most of the time, in fact.

But not always. Sometimes, it's better to just let matters lie, leave questions unanswered, and allow mysteries to go unsolved. Certainly, this is pretty rare, but there are more than a few instances where a question is better than an answer. One such example can be found in the title of this very article: Just what is the deal with the Joker's past, anyway? Recently, DC announced that they would be providing an answer to the question in the upcoming Justice League #50, where they will at long last reveal the true name of the Joker. At first glance, this seems like something that's long overdue. The Joker, after all, is one of the most infamous and iconic super villains in all of comics, serving as the archenemy to Batman himself for over 75 years. Why shouldn't there be a definitive origin for such a prominent character? Why isn't there one already?
Well honestly, it's precisely BECAUSE he's been the archenemy to Batman himself for 75 years, and an explanation was never established early on. Starting back in the Golden Age, the ambiguity gave the character a cool mystique, and the character proved to be extremely popular without ever getting into the details. As time went on, this mystique only grew more and more, until eventually, it became something bigger. At some point along the way (it'd be difficult to say exactly when), the mystery of the Joker's identity had become so big that they just couldn't answer it anymore; if you were to try to definitively establish who the Joker is, that answer, no matter how shocking, poignant, epic, or well-executed, can never be enough. Any attempt to do provide one would always fall short.
I know that what I just said sounds kind of defeatist, but after so much time spent with the question building up, that question became a thing unto itself. For decades now, people have been theorizing and establishing head-cannons, and anything you try to implement now can only fall short of the collective imaginations of comic nerds around the world. This is why even when Alan Moore was delving into the Joker's backstory in The Killing Joke, he had the wisdom to ease off from setting it in stone, claiming that the even the Joker himself isn't sure about anything. Even when Scott Snyder was making waves recently by implying that the Joker might be an immortal, he eased away from it by the end of the story. This is because savvy writers know not only that the question couldn't be answered, but furthermore that the question shouldn't be answered.
At the end of the day, there's more standing in the way of solving a long-standing mystery than the looming specter of falling short; there's also the fact that a good mystery can be a great thing all its own, something that's worth preserving. The Joker himself is a good example of this, but for an even better one, one could look to another work of Alan Moore's, his and David Lloyd's V for Vendetta. The story, which centers around a masked vigilante who spreads anarchy in a fascist regime, frequently hints towards the identity of our protagonist, but never actually let's us see who the man behind the mask is. In fact, the story goes out of its way to cast doubt on what little we do know, outright stating that the backstory we are given (The Man From Room V at the Larkhill concentration camp), could have been completely made up and planted as far as we know.
And yet when we reach the finale and V lies slain in his secret headquarters, our secondary protagonist Evey does consider unmasking him at last. After all, she had never seen his face either, and she had to have been at least as curious as the readers. But when it comes down to it, she just can't do it. There's nothing physically stopping her, but all the same, she never removes the mask. This is because she realizes that no matter who that is beneath the mask, even if it's someone as meaningful to her as her own father, V would be never be the same if his face were revealed. In her own words:
…You were so big, V, and what of you're just nobody? Or even if you're someone, you'll be smaller, 'cause of all the people you could have been but weren't…

Even if you were (my dad), it wouldn't be enough. If I take off that mask, something will go away forever, be diminished because whoever you are isn't as big as the idea of you.

-V for Vendetta
After a certain point, mysteries can become so big that they can't be answered. But that's not necessarily a bad thing. In the case of V, revealing his face would cheapen him, taking him from being something larger than life to being just a man. As a mask, he embodies the very idea of anarchy; once we see his face, even if he's someone shocking or impressive, he becomes mere flesh and blood.
I would argue that the same is true of the Joker. As it stands now, the Joker so iconic and enduring partly because he's so enigmatic, seeming to represent the very uncaring, lunatic chaos that Batman strives against. This can only be diminished if you put a name and a man behind the character. DC has seen fit to do just this, and as much as I hate to condemn something ahead of time, this change to the character's status quo can only make him less than what he was.
Perhaps Neil Gaiman said it best:
It's the mystery that endures, not the explanation.
A good mystery can last for ever.