2016 Super Hero Movies: Worst to First
2016 Super Hero Movies: Worst to First
Hello, everyone, and welcome back to Outright Geekery. We've made it through another year, one more trying than most. But one thing 2016 did have in spades was super hero movies; now that we have 3 major studios and 2 interconnected cinematic universes competing for your attention, there's no shortage of capes and tights to choose from. And so it is that we had seven major release super hero flicks to see this year. Some, though, were a lot better than others. So since its the end of the year and lists must be made, let's rank this year's movies!
7) Batman v Superman: Dawn of Justice (Theatrical Edition)

Starting things off, we have the sequel to Man of Steel that gives us our first real foray into the DCCU, Batman v Superman: Dawn of Justice. When the movie came out, it was roundly panned by most critics, and under performed at the box office after attendance plummeted the week after release. But in spite of all this, the movie still has a contingent of passionate defenders, and to them I say this: There is a lot to like about this movie. There's some good fight scenes, Ben Affleck and Gal Gadot were both great in their respective roles, and there are good moments scattered throughout.
BUT.
Those things aren't enough to overcome the many, many problems this film has. The plot manages to be both bloated and sparse, giving us too many convoluted plot hooks and not nearly enough time giving us a reason to actually care about the characters or their actions. Every moment we spend with main antagonist Lex Luthor is excruciating to sit through, as the woefully miscast Jesse Eisenberg spazzes his way through his scenes. None of the characters seem true to form, what with Batman and Superman being confirmed murderers. And in the theatrical version, hardly any of this is stitched together enough to make sense in the first place.
But at least this last problem is mitigated somewhat by…
6) Batman v Superman: Dawn of Justice (Ultimate Edition)

So yes, this one is better. It actually provides context for most of the plot elements and fleshes out some of the character motivations that were conspicuously absent from the initial release.
But all of the other problems are still there. And the biggest problem of all, the one that I didn't get around to a moment ago, is that so much about this movie, from beginning to end, seems horribly forced. Clark saying "Save Martha" to make Bruce recognize his humanity feels forced. The constant stream of easily reconciled misunderstandings that lead our characters into conflict seems forced. But more than anything, making a movie where all the dramatic tension comes from the characters fighting seems forced and unearned in the worst way. These versions of Superman and Batman only just met in this movie. Furthermore, the audience had only seen Cavill's Superman in one movie, and had never seen Affleck's Batman before at all. As such, watching them fight has no real impact.
The Ultimate Edition did a lot to tidy up all the loose ends that kept the theatrical release from functioning as a movie on a basic level. But it couldn't do anything to help the wrongheaded premise that held this movie back from what both the creators and the audiences wanted it to be.
5) X-Men: Apocalypse

I should start off by saying that I don't think this movie was bad. The super-powered showdowns were fairly well done, the lead roles are well-acted, and there's cool shout outs to a lot of iconic moments and imagery from the comics.
But while this movie wasn't bad, it was very, very forgettable, to the point where I almost forgot to put it on this list.
From beginning to end, this movie really feels like it's just going through the motions. They give Magneto a family just so that they can predictably kill them off in time to give him a fresh bone to pick with humanity. They throw in a completely unnecessary Wolverine cameo just cause. They even work in another Quicksilver slow-mo scene just so they could retread the most memorable scene from the last movie. On the whole, everything feels completely bland and uninspired; there's lots of neat things to look at here and there, but none of it ever has a big impact or blends together to form something more.
There's several other nitpicks to be made, including the fact that none of the characters have aged in 20 years, but the bottom line is that this movie never amounts to more than a momentary diversion that is soon forgotten.
4) Suicide Squad

Up next, we have the most recent offering from the DCCU, Suicide Squad. When I was deciding the order of this list, I was very conflicted about whether this or Apocalypse should take the #4 spot. As resoundingly meh as Apocalypse was, at least there weren't any genuinely terrible elements to it, and I can't really say the same thing about Suicide Squad. The villains and their evil plan are so cliche that a person in a coma could have written them, Amanda Waller is preposterously incompetent, the Joker's inclusion here is completely pointless, and the comradery the characters are supposed to have  is forced to the point of being laughable.
But at least Suicide Squad left an impression, and thanks to a lot of entertainment value and great performances from the likes of Will Smith, Margot Robbie, and Viola Davis, this movie has just enough going for it to squeak by into the fourth place spot. Make no mistake, this is not a very good movie, but the good times at least stick with you after you leave.
3) Doctor Strange

Coming in the bronze medal slot, we have the first movie on this list that I would consider to be genuinely good. Doctor Strange is the latest from the MCU, and follows a lot of the tropes we've become fairly familiar with at this point, to the point where it very closely mirrors the original Iron Man in a lot of ways. But execution is always more important than the tropes a movie uses, and Doctor Strange has great execution indeed. The casting is excellent, especially with Benedict Cumberbatch in the title role, and the movie takes full advantage of the trippy nature of the character and his adventures to deliver some mind-bending locations and sequences.
The movie is a visual feast that keeps upping the ante throughout, while still maintaining a tight plot. There are some problems that hold it back, though; the movie is trying to fit a lot in at once, and introducing a time-travel mechanic always brings its own set of problems. And yes, I can understand people feeling lukewarm about the similarities to Iron Man. All told, this movie is squarely in the middle of the pack of the MCU lineup, which is to say that it's still pretty damn good.
2) Deadpool

Deadpool's movie adaptation is a bona fide miracle. After years of languishing in Development Hell because movie execs were too afraid to make an R-Rated super hero flick, this movie finally got green lit with a laughably small budget. This year we finally saw the release of the movie itself, and in spite of all of the handicaps placed on it, Deadpool ended up being true to the character, genuinely hilarious, and an all-around great movie.
This movie works on so many levels that you can't help but be impressed. It obviously works great as comedy, but also works as an action movie that knows it can go nuts with its nigh-invulnerable cast. Hell, it even works pretty well as a love story, as improbable as that may seem, with a lot of surprisingly sweet moments snuck in between all the dick jokes.
But more than anything, this movie works as a Deadpool movie. This movie proudly displays all the dry cynicism, fourth-wall breaking, and barely contained insanity that are some of the core features of the character. You really have to tip your hat to Ryan Reynolds and company for sticking to their guns and being uncompromising in bringing the real Deadpool to the big screen, complete with a very Wade Wilson-esque lampooning of the disastrous first attempt at Deadpool.
Deadpool is perhaps the most important and impressive super hero movie of the year. It serves as a proof of concept that R-Rated super hero movies work if they're handled well and are appropriate for the character. And it's a pretty inspiring tale of a movie beating all the odds to be something amazing.
Maybe you could argue that the #1 movie on the list had all the advantages that Deadpool lacked, but be that as it may, this years top super hero movie still had to be…
1) Captain America: Civil War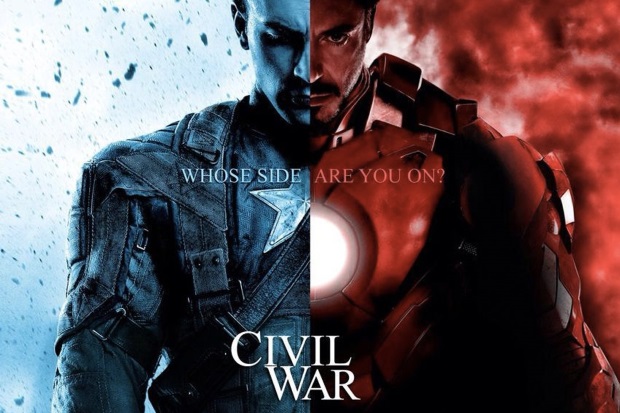 Okay, so this was probably easy to see coming, but when all is said and done, Captain America: Civil War is hands down the best super hero movie of 2016. Bringing together a stellar cast of returning vets who have mastered their roles and newcomers who knock it out of the park, this movie has some major talent being poured into it both on screen and behind the scenes. The way that this film balances so many characters and plot developments is extremely impressive, blending them together into a cohesive whole. The characters and their motivations are fleshed out and understandable, the plot moves along at a nice crisp pace, and the action scenes are truly a sight to behold. The gigantic, sprawling brawl at the airport is worth the price of admission on its own.
This movie manages to be more than just mindless action, though; the thing that makes this story really work is the connection we feel with the characters. We feel their heartbreak and their pain, making the emotional punches hit with more impact than all the physical blows. The small character moments, from Tony talking to Spider-Man to Black Panther's final confrontation with Zemo, give this movie a lot of heart to go along with the larger than life spectacle.
Remember earlier when I was complaining about how almost everything about Batman v Superman felt forced? Well, for Civil War, the opposite rings true: everything feels earned.
The way the characters struggle with the questions about what boundaries the Avengers should have feels earned because we've seen their triumphs and failures from the last 4 years. Steve struggling between his conscience and his responsibilities feels earned because we've seen him grow into a hero and adept to a new world. And when the heroes come to blows, the weight the movie puts into the moments feels earned because we've seen the friendships form and evolve over the course of several features. When we reach the climax, it feels devastating because these are characters that we know and like. Furthermore, neither side is really right or wrong; we understand where both Cap and Tony are coming from, and their decisions are justifiable and relatable.
Certainly, Civil War has a lot of arguably unfair advantages. It was able to capitalize on groundwork done by several other films, and had the big budget that one would expect for a proven, successful franchise. When all the chips are down, though, this movie is a fantastic success, bringing both action and heart, and giving us the kind of long-building payoff that is only possible for a sprawling, shared universe like the MCU. Captain America: Civil War was the best super hero movie 2016 had to offer, and indeed one of the best from the genre of all time.
So there's my list! What would yours be like? Be sure to share your thoughts in the comments, thanks for reading, and have a very happy holiday!