In Legendary Company: Ranking Breath of the Wild
As many of you already know, we're big fans of the Zelda franchise here at Outright Geekery, so it was a pretty big deal for us a few months ago when Nintendo released the much anticipated new title in the series, Breath of the Wild. But this latest game is big deal even beyond being the first new mainline Zelda game in years; it is also meant to mark a new era for the series. Nintendo was able to pull this off once before, with Ocarina of Time breaking the norm set by the original Legend of Zelda and establishing a template followed by Majora's Mask, Wind Waker, Twilight Princess, and Skyward Sword. With Breath of the Wild, though, several conventions of the Zelda series have been reworked or thrown out in order to deliver a new type of experience that focuses more than ever on exploration and player freedom.
And after having spent two months and dozens of game hours playing, discovering 120 shrines, completing scores of side quests, saving a kingdom, and taking a few months to let it all sink in, I finally feel ready to sit down and give the game a thorough assessment. But this isn't going to be a review, per se; there's countless reviews that have been circulating around the internet since early March, and it should go without saying by now that Breath of the Wild is an excellent game and a good reason for you to purchase a Switch. Consider it a 5 out of 5. My aim today is to instead take stock of not just the game itself, but rather where it ranks in the storied Zelda franchise, and also whether I think it will work as the new standard for this nascent generation of Zelda games.
In order to do this, I'll try to break down what I think are the key components for a Zelda game: World Design and Exploration, Puzzle-Solving, Story and Characters, and Gameplay. From here on, there will be some minor spoilers for a number of Zelda titles, including BotW, so know that going in. Without further ado, let's get to it!
World Design and Exploration:
Let's start off with what is undoubtedly Breath of the Wild's greatest strength: the exploration. Put simply, the world design the went into BotW, and the fun of discovering that world, blows the other Zelda entries out of the water. With the new technology available to them, the folks at Nintendo have given us a Hyrule that feels vast, alive, and real. If any part of it was procedurally generated, I couldn't tell, because every mountain, river, boulder, and blade of grass seemed painstakingly crafted and arranged. Traveling the landscape is rewarding in and of itself, with lush vistas and breathtaking landscapes all over, and you never know when you might stumble across something amazing like the ruins of an ancient thoroughfare or some strange creature you've never seen before. It's more than just intriguing locales, though; the kingdom is inhabited by denizens and monsters who eat, sleep, and go about their daily tasks in an organic, believable way.
The game prioritizes giving you freedom of movement that allows you to move up, around, or over just about any obstacle. Previous Zelda games have always pinned you into specific paths for the most part, but BotW lets you go in any direction you see fit. If you see a mountain in the distance, chances are you can go climb it whenever you'd like. And you'll likely find something pretty cool when you do. This newest Zelda world rewards your scrutiny like never before, and it's truly mind-boggling to see what all there is to find. Even after I competed all the games shrines and side quests, I was delighted to find out that there is so much in the game that I still haven't come across. The Zelda has always had rich worlds that are fun to explore, but never before has it been such a thrill to see what's waiting for you on the other side of the horizon.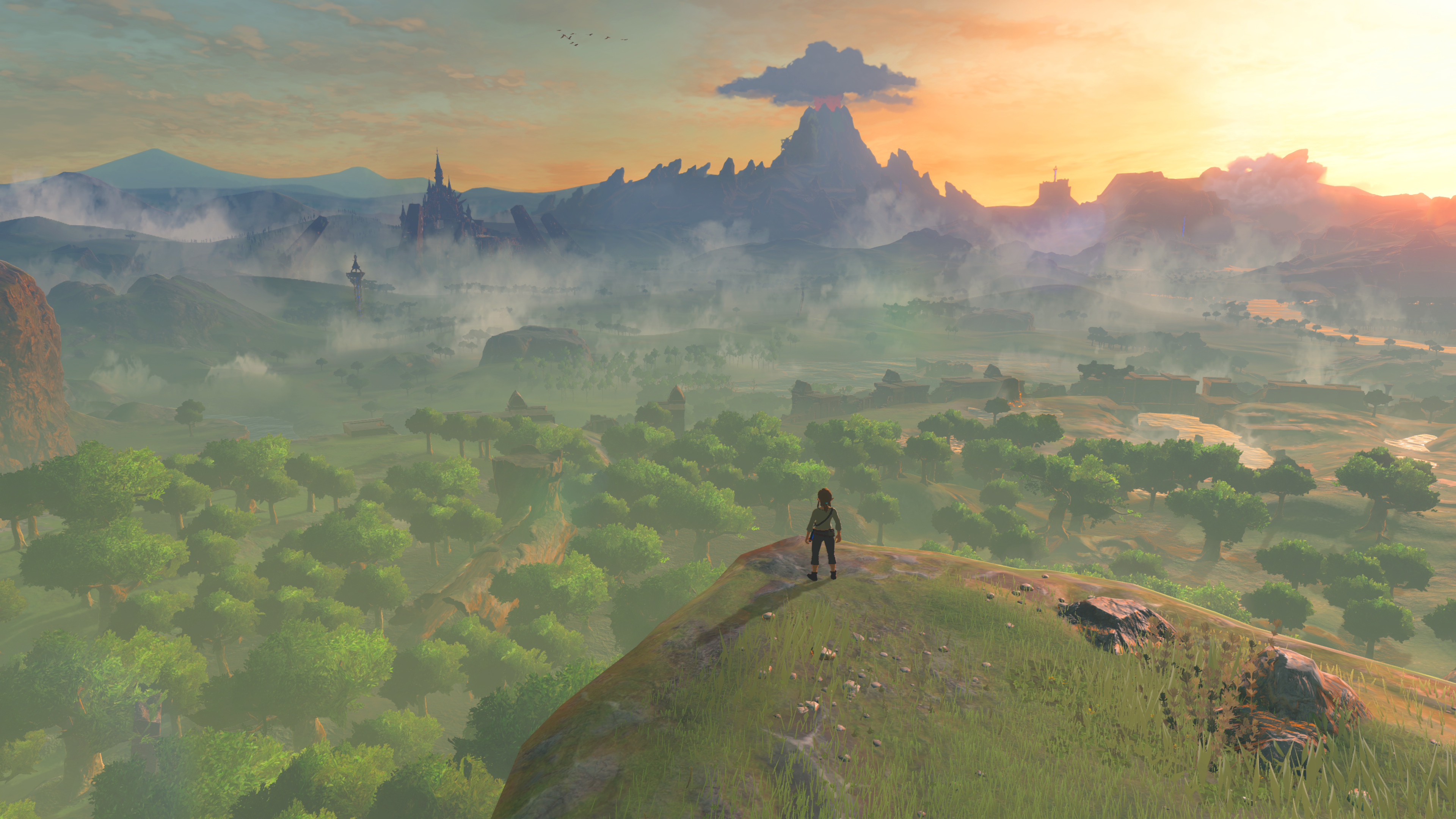 Puzzle-Solving:
Another element that Zelda has always been famous for is solving puzzles. Indeed, finding and conquering the games' dungeons has always been the backbone of Zelda's narratives. In BotW, though, things are a bit different. Rather than having a handful of themed dungeons, this newest Zelda has spread out its puzzles and challenges into dozens of shrines, four Divine Beasts, and Hyrule Castle itself. In its totality, this collection of smaller challenges adds up to quite a lot with plenty of variety, making clever use of Link's resources and keeping the player on their toes. The Divine Beasts add another dimension to the challenges by having you manipulate the environment around you in order to advance forward. Many of the challenges are quite the brain-teasers, too, but never in a way that feels contrived or unfair; usually after I've been stumped by one for a while and I realize the solution, I have an "Oh! Of course!" moment instead of a "What were they smoking!?" moment, if that makes sense. With such a large volume of puzzles on display, everyone is bound to find quite a lot to like. My personal favorites were the mazes that Link has to navigate while ducking Guardians around the corners, which provided tension, exploration, and great ambiance, thanks to some atmospheric music. Pound for pound, BotW packs in a volume of challenge and ingenuity into its puzzles that we've all come to expect from Zelda.
That being said, though, I still missed having genuine dungeons in the game. The sheer number of shrines certainly gives the player a lot to play around with, but none of them let you immerse yourself the way dungeons of past games did. Some of the shrines are a lot longer than others, but none of them are big or grand enough to match experiences like the Stone Tower or the Forest Temple. Even the Divine Beast challenges feel lacking when compared to the standard set by other games. It doesn't help that the aesthetics found in the shrines are mostly interchangeable, causing them to blend together a bit after a while, with a few exceptions. So while there are a lot of good puzzles, I couldn't help missing what was left behind.
Story and Characters:
We now move on the story and characters, which on the whole are a mixed bag for BotW. Keeping up the tradition of previous Zelda games, the gameworld is populated by a wide range of colorful, kooky, charming characters. Every village is populated by denizens with their own personalities, daily routines, and peculiarities. As one would expect from Zelda, many of these characters are a ton of fun, with particular standouts including Prince Sidon with his over the top enthusiasm and the Goron Brothers, Hyrule's  very own crossfit dude-bros. Most of our main cast is very endearing as well, with the four Champions each fleshed out enough that we understand how tragic their deaths are, and so that we can find solace in helping them fulfill their final missions.
The game's best character work, though, was with the eponymous Princess Zelda. Although she features prominently in the overwhelming majority of the games, there are many entries where she doesn't see an awful lot of screen time or do much beyond wait to get rescued. In this game, though, Zelda has what is arguably the best character arc she's ever had. As Link uncovers more of his memories, we discover that this Zelda is not the stoic figure that she is often depicted as, but instead is a young girl grappling with enormous pressure and insecurities who must adapt to tragedy and come into her own. Furthermore, she takes an active role in combating Ganon, sealing him within the castle while Link recovers. It all makes for an effective story.
Unfortunately, the same cannot be said for our hero and villain. Link and Ganon from BotW are among the weakest depictions from any Zelda game because neither one has much going on here. Ganon has absolutely no personality whatsoever, being reduced here to a raging beast that just wants to destroy the world for destruction's own sake. And honestly, Link's personality isn't much better. Having Link wake up with amnesia and rediscovering his memories over time is an interesting narrative frame, but it also made Link an emotionally blank protagonist. There is never any real payoff to some of the games biggest moments because Link doesn't have much of a reaction. Take, for example, the questline in Zora's Domain, one of my favorite parts of the game. At one point, Link regains the memory of Zora Champion Mipha, his childhood friend (and possible lover, depending on how you read it). By all accounts, remembering someone so important to him, and discovering that she was killed by Ganon, should have been emotionally devastating to Link. But he reacts no differently to this revelation than he did to any of his other memories, and it kind of deflates the whole situation. If Link had shown some sign of being affected by the memory, it would have been a much more powerful scene. But as it is, too much is left for the player to project onto the situation.
What's more, their motivations are also pretty bare bones here. As stated before, Ganon is just a nebulous concentration of evil who just wants to end the world cause that's how he rolls. Link, on the other hand, just wakes up, is told that he's the Hero, and then gets on with the hero-ing. Previous Zelda games had gotten better and better at providing a hook to get Link out the door and on his journey. Wind Waker has Link off to save his little sister. In Twilight Princess, he needs to save the children of his village. But Breath of the Wild just gives you a general set of goals and sends you on your way, and while I understand that this ties in with the theme of exploration, it also fails to make things personal for the player the way previous entries had. This is true for the ending as well, as BotW lacks anything as poignant as the death of the King of Red Lions or Link's final farewell with Midna. Since Link had no real connections with any living companions, the best they could do here was a reunion with Zelda, which didn't have as much of an impact.
One final story issue worth pointing out is that a lot of the main quests do a lot of telling without showing. The Divine Beasts are all causing havoc for many of the games locales, but it's so far in the background that they don't seem to be too much of a threat, really. In Rito Village, for instance, we are told that Divine Beast Vah Medoh is a dire menace to the town's citizens, keeping them from flying in the area, but this doesn't seem to be keeping them from living undisturbed on the ground. It doesn't bother Link at all until you approach it. I believe the situation would seem far more engaging if we got to see the Beast actually doing some damage; have it lob attacks at the player as travel through the general the area perhaps. Or have Link dodge lightning strikes on the way to Garudo Town. Just having the Beasts be more of an active threat would add a lot of weight to the proceedings, but it felt like a missed opportunity here.
All told, there's still a lot of charm and creativity on display here, and there's a lot of great characters and moments to be found in the games story. But because our protagonist and antagonist are so bland, and our beginning and ending so uneventful, this story is one of the weaker overall narratives from any Zelda game, and BotW's biggest weakness to be sure.
Gameplay:
Finally, let's end things by taking a look at another of the game's strengths, its gameplay. The thing you'll probably notice is that this new Zelda features a much larger amount of RPG elements than previous entries. Link has a wide variety of weapon and armor pieces that he can swap out, each with different buffs and point values. This is on top of all the potions, foods, and other collectibles that you amass over the course of your journey.
While previous Zelda games have had intuitive controls and fun items to play around with, BotW takes things to a new level. The series' most iconic standbys such as swords, shields, and bows are mixed in with the abilities of the Sheikah Slate, which allows you manipulate metal, create mini glaciers out of water, or even freeze time. I mentioned before that these tools are put to good use in puzzles, but equally impressive is the way you can use them in combat and exploration, doing things like laying booby-trap bombs to ambush enemies, or using the time-freeze on a container to turn it into a means of transportation. All of this is a great example of the gameplay's greatest strength: its versatility.
When playing games, players can often be frustrated when they think up a solution that, logically, should work, but which the developers didn't account for, handcuffing the player to one or two approaches they though of. In BotW, though, the handcuffs are off; whenever you come up with an idea that you think should work, odds are that it will. Is lightning about to strike at your metal sword? If you chuck it at an enemy with precise timing, they'll take the blast instead. Need to climb a steep cliff? You could try setting some grass on fire and using the updraft for a quick boost. I also like how hardly any of this is laid out for you outside of maybe a villager's dialogue here and there, encouraging you to experiment and get creative. The sheer number of tricks you can use and ways you can approach a problem is truly staggering; I can't remember ever playing a game where I've felt so unconstrained.
Just as the game allows you the enormous amount of freedom in exploration, so too does it give you a new level of ways to tackle enemies and obstacles. I still fondly remember Wind Waker for its countering combat mechanic and the fun of transformations in games like Majora's Mask, but taken as a whole, BotW provides a new high mark for the series' gameplay.
Final Assessment
The Legend of Zelda: Breath of the Wild is an outstanding game. It is easily the most expansive game in the Zelda franchise, and from a technical standpoint, it is undeniably the most impressive. But is it the best Zelda game ever made?
No, I don't think so.
The prioritizing of player freedom gives this game the absolute best exploration and some of the finest gameplay that the series has ever had, but I would argue that too much was lost in terms of story and focus. For me personally, the most memorable parts of Zelda games have been the dungeons, bosses, and the story, and I feel that these are BotW's greatest weaknesses. I missed having genuine dungeons to figure out. This newest Zelda's staggering number of small puzzles doesn't have quite the same effect as a small handful of large dungeons. I missed having a colorful cast of bosses to fight. All the bosses in this game kind of run the same in my memory, partly because their so aesthetically similar and partly because there's only a handful of them anyway. But more than anything, I missed the powerful moments that have stuck with me long after the game was over. This game never has a moment quite as powerful as seeing Anju and Kafei reunited, or discovering Hyrule beneath the waves, or racing in to save the children of Ordon village from moblin raid. Breath of the Wild has a lot of great characters and some great moments, but nothing in this adventure made for an unforgettable scene like we've come to expect in previous games.
For me personally, then, Breath of the Wild is not the top Zelda game of all time. I would rank it at #3, behind Wind Waker and Twilight Princess, games which I think had the best stories and dungeons in the series, and just ahead of Majora's Mask and Ocarina of Time, which are also great games with noticeable warts. This is a largely subjective ranking, of course, and if exploration is more important to you than story or puzzles, then Breath of the Wild clearly stands head and shoulders above the rest. But for me, this newest Zelda's many strengths were not enough to dethrone the best in the series.
This, then, leads us to our other question: Will this game serve as a good template for the series moving forward, as Ocarina of Time and the original NES game did before?
The answer here is a resounding yes.
Anyone who has played or even watched gameplay of Breath of the Wild can attest to what a delight it is to play. After experiencing the amount of this latest version of Hyrule, nothing else will do. The gambles the game took in shaking up conventions paid off in a big way. And the things that I complained about all seem to be fixable issues; I can't think of any reason that future Zelda games couldn't have the same massive scope of exploration while also adding in some real dungeons and providing a more engaging narrative. Breath of the Wild is an outstanding foundation on which to build, and much the same way that Majora's Mask, Wind Waker, and Twilight Princess all built upon and improved what Ocarina of Time established, I'm sure that this new generation of Zelda will keep getting better and better from here, and it's already damn good.
And that's a wrap! So where do you think Breath of the Wild ranks in the Zelda library? Feel free to call me out in the comments for anything you disagree with, and thank you for reading!